CHECK THIS OUT
EVERY YEAR WE INCREASE THE NUMBER OF NEW AND EXCITING PRODUCTS WE CARRY, AND OUR 2020 SEASON HOLDS NO EXCEPTION! WE ARE FEATURING NEW MANUFACTURERS AS WELL, ALLOWING US TO PROVIDE OUR CUSTOMERS WITH OVER 14 BRAND NAMES IN STOCK!
Contact us for information on fundraising opportunities for running your own retail firework stand and put the FUN back into FUNdraising! For those who already operate a stand of their own, Showalter Fireworks provides you the opportunity to buy your quality fireworks at wholesale prices.
QR Codes are here! Many of the consumer labels now have QR codes. This is just one more tool we have added to help you learn more details on the products you are buying. You will need to download a free QR code app for your smartphone. Scan the code, and it will take you to a link to see a demonstration video of the product.
!Attention!
Reno County, the City of Hutchinson, and the City of Wichita, currently ONLY allow SAFE and SANE products to be sold and discharged! This means fireworks must NOT go over 6 feet high. But don't worry because Showalter Fireworks has your Safe & Sane needs covered!
For those of you in cities and/or counties which allow all (legal within the State of Kansas) products to be sold, we've got you covered there, as well! We have a wide variety of new items to include: 500 gram cakes, 350 gram cakes, 200 gram cakes, reloadable shells, a selection of your favorite classics, and so much more! Be sure to check out our stands for some FUN-tastic deals.
Home Stand
56 Plum Ave
Inman, KS 67546
6 1/2 miles north of 30th on Plum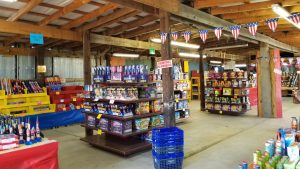 HOURS
June 27th - July 4th
9:00 AM - 11:00 PM
Phone: (620) 663-7714                (888) 886-1008   FAX: (800) 884-1218 Address: 76 Plum Ave. Inman, KS 67546