Put the FUN back into FUNdraising!
Let us turn your fundraising opportunity into an adventure!
If you're looking for fun, exciting, and rewarding fundraising opportunities — perhaps an alternative to the old stand-bys — make Showalter Fireworks your partner.
We have the experience to make your fundraising event run smoothly, integrity that is unsurpassed, and the buying power to make it truly worth your while.
So regardless of whether you're trying to build a new wing on your church or sending your baseball team to nationals - keep Showalter Fireworks in mind.
Fundraising for your:
Sports Team
Youth Organizations
Church
Benefit
Community Organizations
School Music Groups
AND MANY MORE
We provide help to stand operators to locate these items:
Tents
Cash Register or Point of Sale System
Product
Signage (either required or promotional)
AND Much More
Brands we carry:
Raccoon Fireworks
Monkey Mania Fireworks
Topgun Fireworks
Iron Man Fireworks
Winda Fireworks
Bright Star
Brothers
Magnus
MagValue Fireworks
Neon Fireworks
ShowTime Fireworks
Fire Hawk Fireworks
Mighty Max Fireworks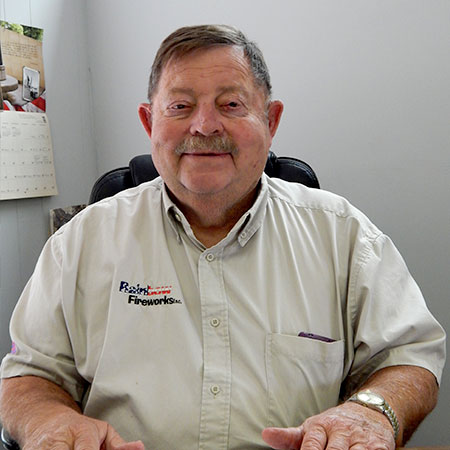 Steve Showalter
Owner/President
I would personally like to invite you to give me a call or e-mail with any questions on how Showalter Fireworks can help with making your fundraising more profitable and more successful.
620-663-7714
[email protected]
Phone:
(620) 663-7714
(888) 886-1008
FAX:
 (800) 884-1218
Headquarters Location:
76 Plum Ave.,
Inman, KS 67546